Welcome to The Early Ford V8 Club of Victoria Inc. 1932 - 1954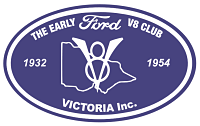 The Early Ford V8 Club of America - Regional Group No. 151
CAV Registration # A0013470E
---
The Club's mission:
To bring together persons interested in the original restoration and preservation of all Ford 4 cylinder, 6 cylinder, V8 and V12 Side Valve vehicles, passenger, commercial, etc., built between the years 1932 and 1954. Also to create a friendly and harmonious atmosphere for the total enjoyment of our common interest.
Membership:
You do not need to own an early Ford side valve vehicle, merely have an interest in promoting the mission of the club. This openness is designed to encourage people who are thinking of obtaining such a vehicle, as well as previous owners to participate and enjoy club activities.
Meetings:
1st Friday of the month (except January)
(Go to calendar for meeting dates)
Held at the Vintage Drivers Clubrooms (NOTE NEW VENUE)
Unit 8, 41-49 Norcal Rd, Nunawading. (Easy access from Springvale Rd, Canterbury Rd, Eastern Freeway & Eastlink)
Meetings at VDC clubrooms start at 8pm.
We aim to have fun and learn from each other.
Visitors with an interest in all types of flathead fords are always welcome.
Owning a flathead Ford V8 is not essential for membership or at meetings.
Members and partners PLEASE remember to wear your name badges at club meetings and social outings.
Club Rules:
To read the club rules please click here.
Convoy Procedure:
To read the club convoy procedure please click here.
Attendance Register Sheet:
To download the club attendance register sheet please click here.
Club Permit Scheme 
Our club is registered with VicRoads for the Club Permit Scheme (CPS). This permit scheme offers a less costly permit to drive on Australian roads as an alternative to full registration. To find out more about the CPS please click here.
If you do not have Adobe Acrobat reader click here to download...
Postal correspondence to: Secretary, The Early Ford V8 Club, PO Box 546, Mulgrave Business Centre, Vic. 3170
Email correspondence to: This email address is being protected from spambots. You need JavaScript enabled to view it.
Club website: www.earlyfordv8vic.org      (oh, you're here!)
Facebook group for club members only: https://www.facebook.com/groups/209560556150995/
The club is a not-for-profit incorporated association with a formal legal structure registered with Consumer Affairs Victoria.